Experience the Sights and Flavors of Battle Creek, Michigan
Known as the "Cereal City", Battle Creek has much more to offer visitors beyond its breakfast food heritage.
Located in southern central Michigan, Battle Creek provides plenty of family fun, outdoor recreation, cultural attractions, and mouthwatering dining options.
I will recommend some of the top things to do on your Battle Creek getaway in this article.
Tour the Kellogg Factory
Getting an inside look at the high-speed world of cereal production at the Kellogg factory is a fascinating experience.
You'll gain new appreciation for Kellogg's history and processes that bring beloved cereal brands to the breakfast table.
So what's to see?
You can join a walk around the original cereal plant on a 90 minute guided tour. There are machines puffing rice, extruding flakes, and packing iconic cereals to see.
Ever wonder how your breakfast cereal is made? You now have a chance to witness the noisy, steam-filled process of cereal production up close
Learn the history of W.K. Kellogg and product development in the 1930s era Heritage Center. You can also learn about product innovations like Rice Krispies and Corn Flakes.
At the Kellogg Heritage Center, there are many historic displays with 1930s memorabilia. Check out the vintage advertising posters showcase Kellogg's marketing history.
After the tour, visit the Kellogg Store filled with cereals and merch.
Something to keep in mind before you visit Kellogg Company:
Tours offered daily from 9am-1:30pm.
Advance reservations required, book online or by phone.
Cameras permitted but no photos allowed inside the active plant
Splash at Full Blast Water Park
Address: Full Blast Water Park, 7873 McCamly Rd, Battle Creek, MI 49015
Hours: Open daily 10am-6pm in summer
Full Blast Water Part is located next to Cascades Falls in Battle Creek. It is a perfect place to cool off your body temperature when summer temperature rise.
The park features speed slides, brave the tropical storm tube, or ride the lazy river. Thunder Run slides are a must-try in this park. Experience a short thrill when sloshing and spinning down tight turns.
Some other places you want to visit while you are in the park:
Tropical Storm is an enclosed tube slide with special lighting effects.
Captain Kenny's Cove has dump buckets and interactive water features.
Cyclone and Hurricane slides offer intense dropping, twisting experiences.
The zero-depth Wave Pool generates waves up to 3 feet high.
Full Blast Bay is a leisure pool with basketball nets and log walk.
For little ones there's a kiddie play area, wave pool, and mini slides. Rental cabanas provide relaxation with shade. Little River Lagoon is a kid-friendly play area with small slides.
You kids will feel 100% safe. Life jackets provided free of charge.
Food stands here sell amazing snacks, pizza, ice cream and beverages.
Full Blast is open daily June through August and select weekends in May and September.
See Wild Animals at Binder Park Zoo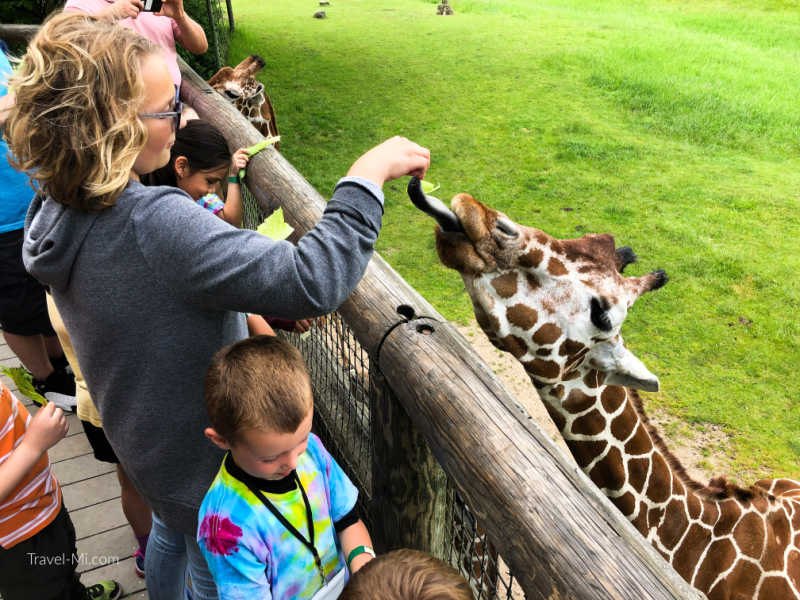 Address: Binder Park Zoo, 7400 Division Dr, Battle Creek, MI 49014
Hours: Open daily, hours vary by season
Are you curious about animals and their habitats? Binder Park Zoo features a wide range of wild animals.
Get close to over 600 animals from all corners of the globe at this top-rated zoo.
Africa section homes to rhinos, zebra, giraffe and lemurs in elaborately themed habitats. You might have a chance or two feeding the towering giants and get to their eye levels at Giraffe feeding station.
Lions, hyenas, and meerkats replicate the savanna in stunning detail. Wild Africa Trek zip line course with panoramic views of the zoo.
In the tropical exhibit, you can say hi to crocodiles, monkeys, tropical birds and a Thai temple. Red pandas, snow leopards, and Amur tigers in the Asian exhibit.
For those who love the adorable-looking animals from the Down Under, visit Australia Walkabout to interact with wallabies, see kangaroos and emus.
The Tropics section contains crocodiles, howler monkeys and wild birds in a Thai Buddhist temple.
What else to do at the zoo?
Endangered Species Carousel with hand painted animal figures.
Playful sea lions perform shows and splash in their pool.
Wilderness Tram Tour is a guided safari-style ride through habitats.
Pet and feed friendly domestic goats at the Children's Farmyard.
Special events like BOO at the Zoo for Halloween and summer concerts.
Visit Battle Creek Farmers Market
The farmers market operates seasonal, mid-May through mid-October on Tuesdays, Thursdays, and Saturdays.
It is an open-air farmers market located downtown at Festival Market Square.
Hours are 7am to 2pm on Tuesdays and Thursdays, 7am to noon on Saturdays.
Farmer markets are always my go-to place when I visit a town or city. You can see how people live and enjoy life just by walking down the market.
At Battle Creek, the farmer market features over 40 local vendors selling fruits, vegetables, meats, cheeses, baked goods. Farmers bring freshly harvested produce like sweet corn, berries, asparagus, squash, apples.
Artisan vendors sell homemade jams, honey, salsa, maple syrup and other specialty foods. You can stop by and sample the food. Moreover, flowers, plants, herbs available from local nurseries and growers.
Live music and family activities sometimes scheduled during market days. Special events like Watermelon Day, Tomato Festival, Harvest Celebration.
Walk Along Linear Park
Address: Downtown Battle Creek, Trailheads at McCamly Plaza and Riverside Dr
Hours: Open 24 hours
This 3-mile recreation trail follows the Battle Creek River through the heart of downtown Battle Creek. Perfect for walking, running, or cycling.
The paved path connects McCamly Plaza, Beadle Lake, Dr. Martin Luther King Jr. Memorial Park and other green spaces. What's more, benches scattered along the route for resting and river viewing
You can access the layout with minimal road crossings. The park also features art installations like the Gateway Sculpture and Monument to Freedom. It is a great place to walk and appreciate art and nature.
The Landscaping includes native wildflowers and gardens. There is also wildlife like ducks, geese and deer inhabit the river.
The park opens 24 hours, 7 days per week. You can stroll here even at night. The park is well lit at night with security cameras for safety.
Mountain Bike the Freshwater Land Trust Trails
Address: 10255 Brookfield Rd, Battle Creek, MI 49015
Hours: Trails open dawn to dusk year-round
The Freshwater Land Trust Trails is certainly the must-go place for mountain bike enthusiasts. It is located on a 245-acre nature preserve and just 15 minutes from downtown.
The Freshwater Land Trust has developed scenic mountain bike trails surrounding pristine wetlands, forest and the Kalamazoo River.
The 15-mile trail network has options for every skill level. Trails wind through varied terrain including wetlands, forests, fields. Short loop options cater to families and beginners.
Flowing single-track, dirt jumps, and technical features challenge advanced riders. Well marked trails with difficulty levels clearly indicated.
Double Trouble is an advanced technical trail with tight turns and obstacles. Evil Oak and Hells Kitchen for expert riders with high speeds and jumps. The Pump Track is a circuit of banked turns and catch berms for practicing skills.
You will certainly enjoy flowing single-track trail through peaceful wooded sections. Moreover, you can watch for wildlife like deer, foxes, wild turkeys and sandhill cranes. There is also rest area with picnic tables and portable restroom facilities.
With scenic surroundings and options for all abilities, the Freshwater Land Trust trails offer an appealing spot for mountain biking just outside Battle Creek.
Shop and Dine Downtown
Downtown Battle Creek is experiencing revitalization with new restaurants, breweries and boutiques lining Michigan Ave and Hamblin Street.
Sample house beers at Arcadia Ales or handcrafted cocktails at the wine bar Tantrick.
Find antiques at Cherry Pickers and local artisan goods at SHOP.
When hunger hits, grab wood-fired pizza, gourmet burgers, or Sunday brunch favorites.
Catch a Show at FireKeepers Casino and Hotel
Address: 1111 Michigan Ave E, Battle Creek, MI 49014
Hours: Open 24 hours
The Casino and Hotel is located right off I-94 for easy accessibility.
This sprawling casino complex next door to the Kellogg factory houses over 2,200 slot machines, gaming tables, and a poker room. Popular slot titles include Wheel of Fortune, Monopoly, Wizard of Oz. Table games include blackjack, roulette, craps, three card poker.
This casino has everything for everyone. If you are a serious player, hit the High limit gaming area.
When you need a break from the slots, check FireKeepers event schedule for live concerts, boxing matches, and comedy shows taking place in the Event Center arena. Non-smoking and smoking sections available. High Roller Bonus Zone with exclusive perks. What's more, exciting live Keno drawings every 10 minutes.
Dining options run from buffets to upscale steakhouse. And you can rest up in style at the attached 4-diamond hotel.
From its breakfast cereal roots to cultural attractions, downtown scene, and outdoor recreation, Battle Creek offers an array of things to do for tourists and locals alike.
Learn about the city's unique history, then taste your way through breweries, farm-to-table restaurants, and sweet shops for a delicious Midwestern getaway.